Located in Alice Springs, Northern Territory, Australia, APAS represents the first commercial aircraft storage and recycling facility in the Asia Pacific region. The facility was ultimately selected due to its climatic suitability, significant existing infrastructure and capacity for major expansion.
Alice Springs offers the perfect environment for the preservation of aircraft and their inherent capital value. The facility benefits from an arid desert environment characterised by an average year round humidity of approximately 25%, outside Australia's cyclone zone, low rainfall, and with low lying in situ vegetation providing additional dust suppression qualities.
The facility also benefits from the following:
A runway capable of accepting any aircraft
Rail access (Darwin – Alice Springs – Adelaide) for transportation of aircraft parts and recycled materials
High level of security given the operational nature of Alice Springs Airport with the Facility under 24 hour security monitoring
Alice Springs, centrally located and directly accessible via most international airports, is a global tourist destination. The immense popularity of the famous "Uluru/Ayers Rock" allows aircraft operators and owners to defer ferrying costs through the operation of charter flights for tourists to Alice Springs, following which the aircraft will be placed into storage.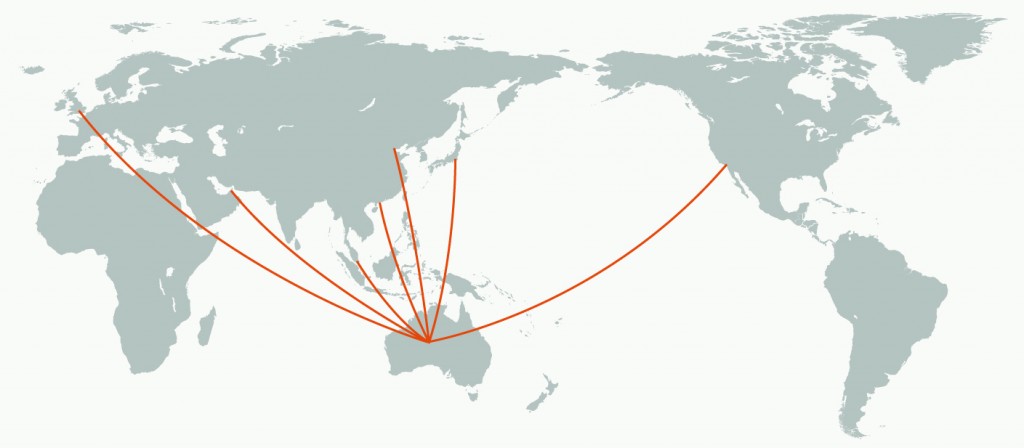 Alice Springs Airport is capable of taking code E-type Aircraft B777/B747 and certified for A380.
Runway Information
Magnetic Bearing: Runway 12/30 Bearing 115 (Principal Runway)
Reference Code: Code 4
Length / Width / Slope: 2438m x 45m, slope down at 0.3% to the southeast
Graded Strip: Approaches: Rwy 12 1.20% take-off gradient
Rwy 30 2.12% take off gradient
Pavement type and rating: PCN 60 Flexible high strength sub-grade
Tyre Pressure 1750kPa or 254 PSI – Determined by Aircraft usage Runway grooved.
Type A Chart – Edition 1 May 2004
Runway 12/30 Turning Nodes
The current node configurations allow for B747/B777/A380 to conduct 180 starboard turns. The current node configurations allow for B747/B777/A380/A340 to conduct 180 starboard turns. The node line is designed for standard A340-600 / B777-300ER wheel deflections. All other aircraft are to use minimum speed and maximum radius turns to avoid pavement damage.
Approach Lighting
Runway 12/30 T-VASIS
Runway 12 HIAL-CAT1
Note 0930-2200 UTC HIRL & HIAL only
Available with 90 minutes prior notice.
Curfew and Noise Abatement
Alice Springs Airport is open 24/7 and there are no restricted flight paths for noise abatement procedures.